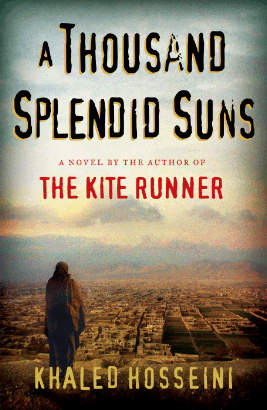 I just finished reading A Thousand Splendid Suns by the awfully talented Khaled Hosseini. I should first say that the writer didn't drift away from what made him famous; his first novel. The story is set in Kabul, afghanistan and it sees much of what we already have read in The Kite Runner, and it adds some more.
I enjoyed the novel, I enjoyed the plot, the characters, the war-zone atmosphere and above all I very much enjoyed and marveled at the way he writes. Its a story of a young harami (bastard), her name is Maryam, who lives with her mother in a hut away from her father, who came to visit once a week. She awaits his arrival every week with patience, every single week, and loves him dearly and relentlessly, inspite of her mother's constant bashing and warning that one day he won't come to her anymore and will forget about her exactly like how he forgot to publicly own his mistake and let her, Maryam, live legitimately with her other sisters from his other wives.
The writer then starts another story with another girl who lives down the street from Maryam, her name is Layla, who is in love with Tariq. Fate plays the cruelest games with these 2 girls. They learn much about life and how, at times, it means nothing and everything at the same time. You learn much about how life was not so nice to Afghan girls during the 70's, 80's and ofcourse their worst days in the 90's during the Talibans stage.
I recommend this very well written novel to everyone. Its like what you're probably going read if you ever (not possible) read one of Amir's* novels.
* Amir is the boy in Hosseini's first novel.
This entry was posted on Wednesday, June 25th, 2008 at 1:23 am