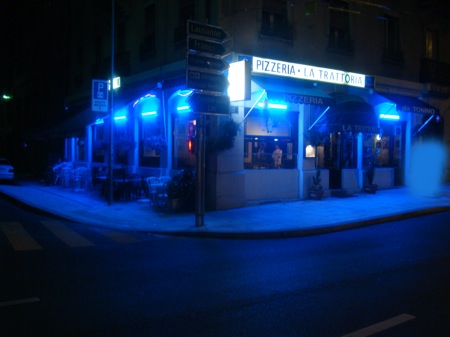 We went to an italian restaurant the other day, it was recommended by Hamad's boss. When we first saw the street it's located in and the neighborhood we had our little doubts. We know that restaurants in europe and especially in switzerland aren't flashy and the best restaurants always look kinda cheap, but still, the place looked weird for some reason, maybe being behind the train station and all.. I don't know. We wanted to sit outside but the waiter told us that we only have this cramped table to sit at coz the other section is not being served for the night. We didn't sit outside and went in. The restaurant is small and not so cozy, there was a football game being played on TV and italian waiters arguing loudly. My brother couldn't have been any happier, being an AC Milan fan and all, he couldn't have wished for a more italian restaurant to be in.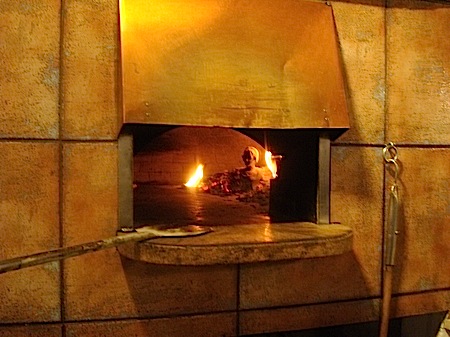 We sat and the Pizza oven was right next to us, the smell was killing us, it smelled so good inside! we skimmed through the menu. We knew we're going to order pizzas for starters, it was only a matter of quantity and we all ordered the same maindish (by accident, I'd like to believe), a home made tagliatelle with creme and mushrooms.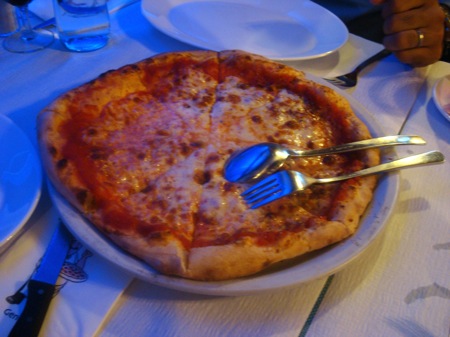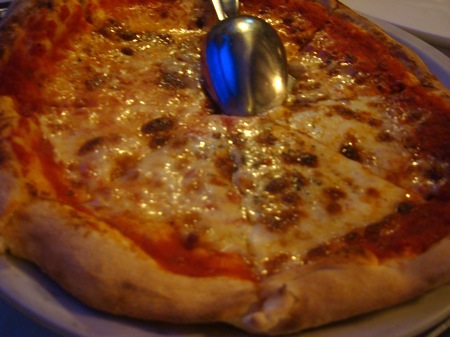 The pizza is one of the best pizzas I have ever tried. You could tell it was made in a hurry, italian style. the bread (crust) was unevenly covered with tomato sauce, the sauce was not fully covered with cheese, the cheese was bulky in the middle.. but it all came to form the perfect pizza for me.. you know.. you could taste the bread, then the bread with the sauce, then finally you could taste the whole pizza with the unique kind of cheese they used. My brother didn't very much appreciate the cheese they used. The cheese made the pizza for me. It had a different kind of texture and taste, it was mozzarella (I think) but I think I sensed some sweetness and it was very very soft/tender (layna) and it didn't feel like we're biting into this much cheese (kan mitkawwid bilwese6). I loved the pizza.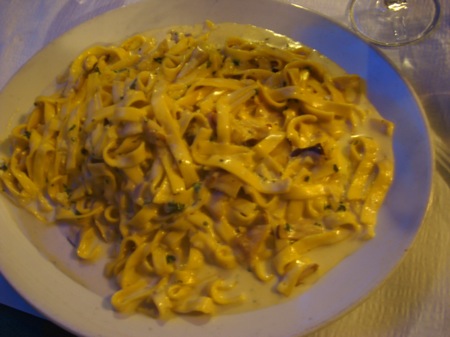 The tagliatelle with creme and mushroom arrived right after the pizza and we were really amazed at the portion! it was huge! One of the very rare moments for me when I KNOW in advance that I won't be able to finish it all up (ah the relief 😛 ). We dug in. Now, let me first say that I liked the dish, I think it was very well done, But.. There was no way they could follow up their pizzas with something that would wow us the same way their pizza did. It wasn't possible. I liked the pasta and like the sauce, but the mushroom was kinda icky, it was imo a bit undercooked, made me feel like i was eating raw fish. I pushed the mushrooms aside and enjoyed the dish.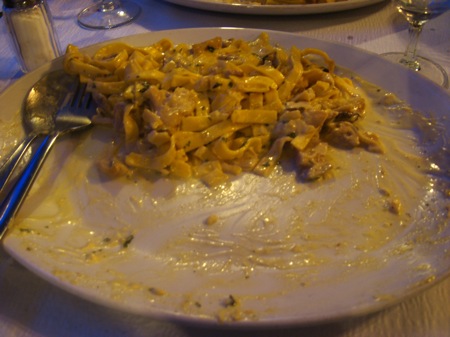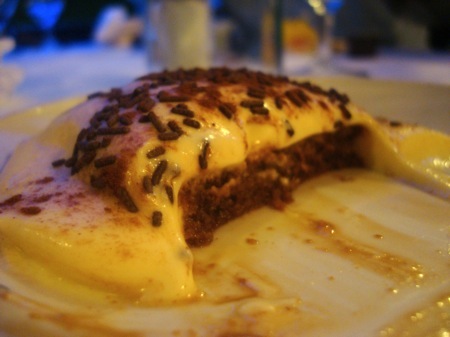 The dessert. I ordered tiramisu. The whipped creme on top was good, everything else was kind of blah. too strong and coffeeish.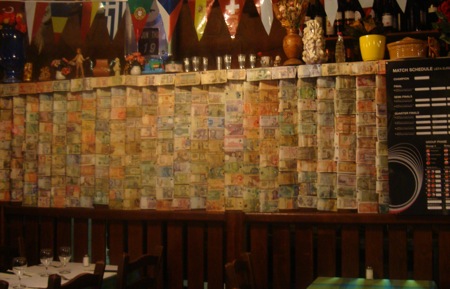 I pinned a 1/2 Kd up on that wall. Look it up if you ever visit! 😉
Overall I think its a great restaurant and a must whenever you're in Geneve. I think the service was superb and VERY friendly. I'll sure go back to have some more of their amazing pizzas.
Score 4.5 Out of 5.
This entry was posted on Sunday, June 22nd, 2008 at 7:15 am