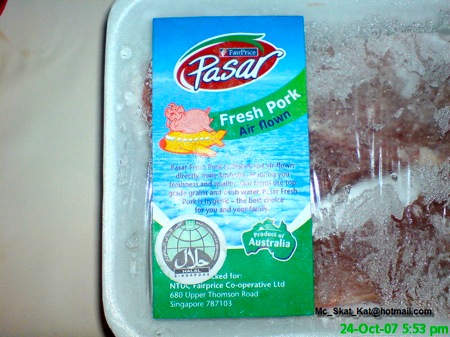 Khosh wallah.
Thanks Om MiMi.
Update:
It appears that this product is either fake or someone wanted to market it to the wrong people, and whoever did this is going to get in trouble coz, according to the below statement, there is an investigation going about this product.
DVLz, a reader of our blog, just commented with the following:
The 'Pasar Fresh Pork (Air Flown)', packed for NTUC Fairprice Co-operative Ltd, 680 Upper Thomson Road, Singapore 787103, is not Halal-certified by Muis. Our investigations at eight NTUC outlets on 31 October 2007, immediately upon receipt of this feedback from a member of the public, revealed that the said product did not bear the Muis Halal certification mark.

Please be informed that Muis is working with the police on this matter. It was reported by Channelnewsasia on 1 November 2007 that the NTUC Fairprice had filed a police report over what it claimed as an act of mischief to tamper with the packaging of the pork product.

Source: muis.gov.sg/faqs/
Thanks DVLz.
This entry was posted on Sunday, July 20th, 2008 at 3:24 pm