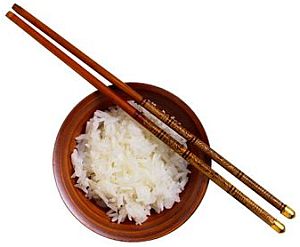 My brother once told me not to try any chinese restaurants outside of Kuwait. He said that the chinese restaurants in Kuwait are very careful when cooking the dishes, they don't want to alienate their Kuwaiti customers by cooking real chinese food, coz sometimes its too much for them to handle. My Brother basically said that in Kuwait they cook Kuwaiti friendly chinese dishes.
My brother's favorite chinese restaurant in the world is Peacock in SAS Hotel, since Peacock is highly overrated in my opinion, I tried to take his advice with a grain of salt. I wanted to prove and make a point to myself, that there are good chinese restaurants out there, somewhere.
Today, I was out by myself, and I like to try new places when there is no one around. The reason I don't prefer eating at new places with people with me is coz I don't like the disappointed look and the "its all your fault" stare when the food turns out to be inedible (which often is the case). Anyway, As I was saying, I was out by myself and wanted to try a chinese restaurant, to prove a point. I entered the first restaurant I saw. Its called Chez Leung. There was no one inside besides the 2 chinese guys eating at a table near the kitchen and talking with the waitress, they were her friends, I think.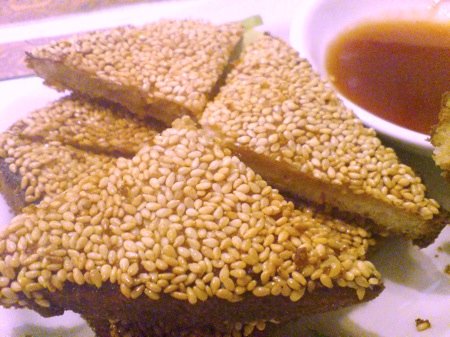 I chose a table and sat. I inspected the place for awhile, thinking to myself "this looks like a nice authentic restaurant. Look at the plants, the frames, the little plastic kitty waving, the plants again, the music… err.. the music?!" the Eagles "Hotel california" was playing from the speakers. Not so authentic. I was expecting some whiny girls singing words I don't know. The waitress came, very friendly, took my order then went to the kitchen, all the while smiling like she's just seen a friend. I took out my laptop, no wifi signal, returned the laptop back only to find the waiter standing next to me with my starters. The dish came out fast, definitely not a good sign. My starter was chicken on toast with sesame. It tastes bland, I couldn't really taste the chicken, it tasted like a dessert called Samsamiya, Which I hated since I was little. My brother was half right by that now. But there was still hope, a chance for me to be right for doubting my brother. Not so long after she took my first dish, she came back with the main course, Hot & Sour chicken. It did not look very appetizing, and the mood they're trying to set with the music is not working out well. By now George Michael's "Careless whisper" was playing, followed by "you take my breath away", Savag Garden's "I knew I loved You", Bryan Adams' "Everything I do". At first I was blaming the radio for playing all those songs, but after hearing them all back to back it was clear now that it wasn't the radio playing all those songs, it was a them.. the restaurant! coz no radio would risk its reputation by playing all these sappy songs consecutively! (unless its 99.7 RKFM).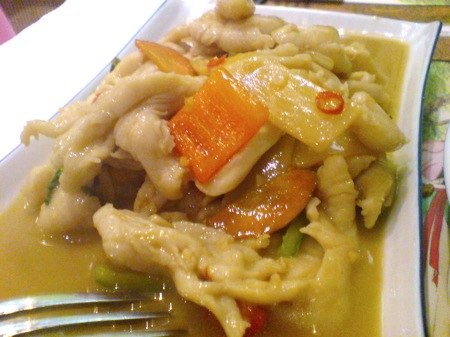 I finished eating and asked for the check. I couldn't have been more off with the restaurant choice. The food was horrible, The place was not as authentic as I hoped for (I saw a ketchup bottle) and the music selection was… no comment.
I paid and headed to the door, A song started playing as I was stepping out the door, I couldn't really catch it, it went something like this "If… I.. Shoould stay.. I would only… be in.."
This entry was posted on Friday, July 18th, 2008 at 6:24 am