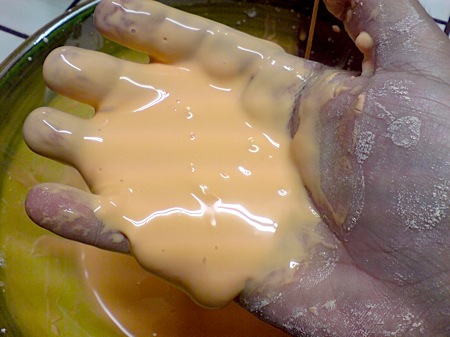 I just discovered Oobleck! Its called Oobleck! When I first read the name I got curious and read some more then went on youtube and found many videos about Ooblecks! lol I don't know whether this is old news or not. 😛
This substance is solid AND liquid! it gets solid when you apply pressure, and when you don't, it turns back to liquid! its freaky at first but then it gets so much FUN!
I tried it just 10 minutes ago. ALL you need is 1.5 cups of corn starch (nisha ilthora) and 1 cup of water.. I added some more starch afterward to have a thicker texture. This thing gets VERY sold when you grab it and squeeze it, but when you loose your grip, it melts right out of your hands and fingers. You can add color, any color, just for more fun.
You should all try this NOW!
Again, You need:
1 1/2 cup of corn starch.
1 cup of water
color, any color (mo lazim)
This video may help as well:

This entry was posted on Sunday, July 27th, 2008 at 3:50 pm