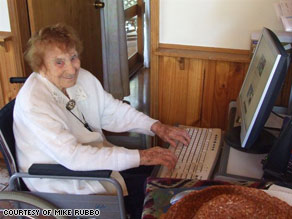 By Saeed Ahmed
CNN
Mon July 14, 2008
An Australian woman often described as the world's oldest blogger has died at the age of 108 after posting a final message about her ailing health but how she sang "a happy song, as I do every day."Olive Riley died Saturday at a Skylark adult day care and nursing home in New South Wales.
Riley posted more than 70 entries on her blog — or "blob" as she jokingly called it — since February 2007.
On the site, The Life of Riley, and in a series of videos post on YouTube, Riley mused on her day-to-day life. She also recounted living through two world wars and raising three children on her own while working as a cook and a bar maid.
Her Blog: THE LIFE OF RILEY.
Thanks Taymoor.
This entry was posted on Thursday, July 17th, 2008 at 11:20 am