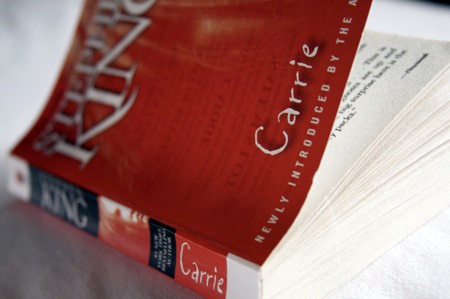 Carrie, A girl born to a freakishly religious mother, never felt normal or accepted by her mother nor her peers. She was the butt of every joke, she came to expect a foot to be shot out at any moment to trip her and then another foot to kick her while she's down, and ofcourse the laughs, always the laughs that followed every sudden bad turn of events.
Carrie then discovered, gradually, through her own forgotten memories, that she's telekinetic (has the ability to move objects by mental power). What would you do if you were her?
When I read the reviews and how the book is considered a modern day classic, I thought I'd really like it. I liked some parts, but it was cheesy, the whole topic is old and beaten to death. Maybe it would've felt fresh and groundbreaking had I read it when it first came out in 1974, But now, It just feels cliched.
I enjoyed reading the book in general, but did not enjoy the story itself. It's my first Stephen King book. I thought it would be a little scary, but it wasn't.
This entry was posted on Wednesday, August 20th, 2008 at 11:04 am