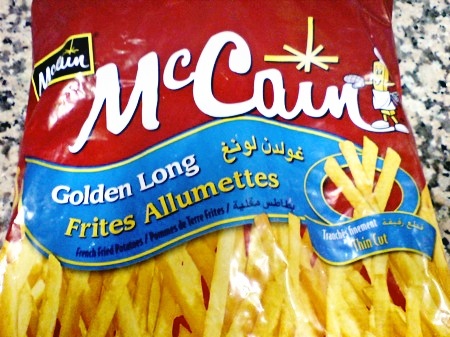 A couple of days ago my brother mentioned this Mcdonald's fries lookalike, he said the fries looks exactly like McDonald's and it tastes really good for a frozen home fried french fries. This weekend when we were in Chabd, we did a little barbeque and coincidently there was this McCain fries on the table, so I tried it. Now, I liked it, it tasted really good, nowhere near as good as McDonald's, but it was reallly goood. I just did some googling before writing this post, and you know what? IT IS the fries McDonald's use! the same manufacturer at least. McDonald's use McCain's Fries.
From McDonalds site:
MacFries from McCain were found to be one of the best. The award means that McCain fries, produced for McDonald's to strict specifications, can now be used as a benchmark by other McDonald's fry suppliers worldwide.
I was told it can be found in most Co-ops.
This entry was posted on Sunday, August 31st, 2008 at 5:41 am