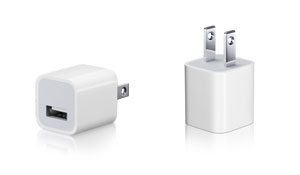 Taken from Apple.com:
Today Apple announced the Apple Ultracompact USB Power Adapter Exchange program.
Apple has determined that under certain conditions the new ultracompact Apple USB power adapter's metal prongs can break off and remain in a power outlet, creating a risk of electric shock. We have received reports of detached blades involving a very small percentage of the adapters sold, but no injuries have been reported.
The ultracompact USB power adapters were supplied with every iPhone 3G sold in the following countries:
▪ US
▪ Japan
▪ Canada
▪ Mexico
▪ Several Latin American countries
Users with ultracompact power adapters should immediately stop using them until they exchange them for a new, redesigned ultracompact adapter.
In the meantime, they should charge their iPhone 3G by connecting it to their computer with the USB cable that came with their iPhone or by using a standard-sized Apple USB Power Adapter (with fold up prongs) or with a third party adapter designed to work with the iPhone, such as a car charger.
Thanks Khalid.
This entry was posted on Saturday, September 20th, 2008 at 7:38 pm