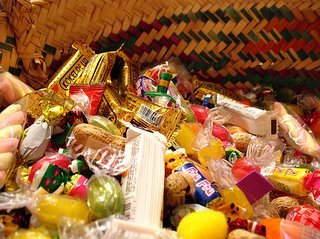 Our last poll was 'What is your favorite Ramadan dish?' Over 200 people decided the following:
Harees / Yereesh 32%
Tashreba 29%
Muchboos 16%
Em6abag 3%
I don't care 20%
The tashreeba, my favorite, won the second position. It so deserved to be a #1 😛
Our new poll got to do with Ramadan too. The Gergai3an is an old Kuwaiti tradition, where kids go door to door, on the 13th, 14th and 15th of every Ramadan, singing a traditional tune and in return get a handful of goodies (chocolates, nuts..etc.) We all went gerge3ing when we were kids and I remember that we couldn't wait to measure our bagfuls of goodies and see who got the most.
So, What do you think of Gergai3an? You can submit your answers using the poll on the right sidebar.
This entry was posted on Saturday, September 13th, 2008 at 4:50 am