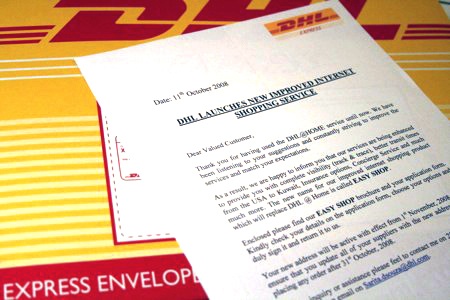 DHL sent me a package the other day telling about their improved service. They sent a brochure and a form to fill and sign. It's not really a brand new service but more like a revamped @Home service and they've changed the name to Easy Shop.
The positive changes they've made to their service are:
1-Internet tracking.
2-Shipment leaves within 24 hours from it's arrival to your US mailbox and you'll get notified twice via sms and email. Once when it leave and once again when it arrive.
3-4 days transit period.
4- Concierge service.
And there is one big change they've done and is, in my opinion, a very big mistake:
They won't deliver to our homes any more. We pick a service point (they have 4 points all over Kuwait) and we go ourselves to collect the packages.
If you want to learn more about this service then you should read This post and This one too.
This entry was posted on Friday, October 24th, 2008 at 3:27 pm