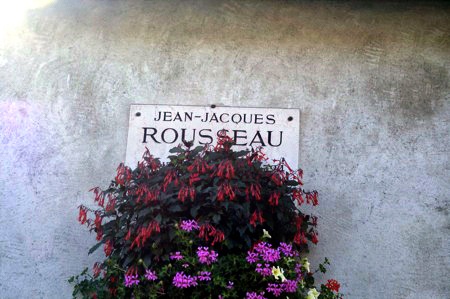 This sign was on a small one room building near where we stay in france. For years we've been passing by without paying much attention. A couple of years ago Mom started telling me about this guy, who turned to be a great french philosopher. Apparently he stayed in our area when he was young.
I just googled and read about him. He wrote many books. I read that he invented modern autobiographies. I skimmed through his Confessions book and the first thing he wrote was a bit of a turnoff:
"I HAVE begun on a work which is without precedent, whose accomplishment will have no imitator. I propose to set before my fellow-mortals a man in all the truth of nature; and this man shall be myself."
No imitator, huh? I bet he's turning in his grave with the debut of every new autobiography and reality show.
Then I read a line that made me laugh:
"I believe no individual of our kind ever possessed less natural vanity than myself."
I'm sure when this last line is put in it's context may come off less self-absorbed/conceited, but still I find it hard to accept that someone would say something like that about himself and still think he has low vanity..
This entry was posted on Thursday, October 9th, 2008 at 11:46 am