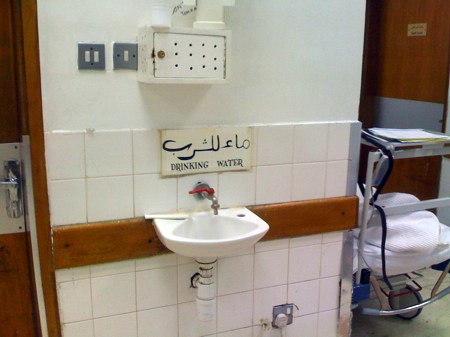 Our friend got his neck hurt while playing volleyball in the chalet and we rushed him to Al Adan hospital.
The whole Adan experience was a sad one. I went in expecting the worst kind of doctors with the worst attitudes. I expected to have a bad experience as a result of incompetent staff. But that wasn't the case.. that wasn't the case at all. The doctors were doing their jobs to the best of their abilities and the nurses were running around to help as much as they could. I'm not going to talk about the receptionists because, simply, they do not qualify as human beings (inshallah ma3ashat'hom zaqqoom bichbood'hom) so i won't mention them (again).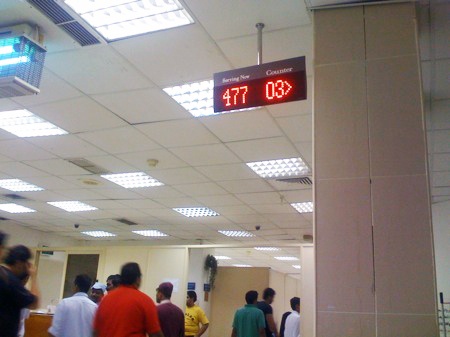 The one thing that was bringing the whole thing down.. the one thing that was wrong with the hospital (aside from the building itself) was the people. The patients and their families. As soon as we were by the doctor's door the shoving and cutting inline started. We saw our number flash on the screen and went to the doctor to find a whole other family entering before us and taking our turn. And when they came out, another women wanted to cut inline and even had the nerve to feel offended when we refused to let her go in before we do.
When we were in the doctor's office and our friend being diagnosed, there was atleast 5 attempts to open the door. The nurse had to lock the door.
There are always people complaining about the doctors in Kuwait and how they're not doing their job. How they get misdiagnosed and stuff.. But now I know, in my opinion, the main cause behind such complaints.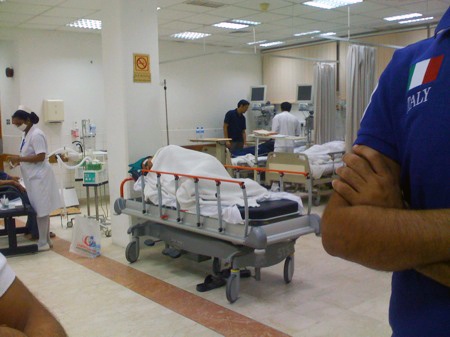 The Kuwaiti people need to take lessons and be parented all over again before we are let out on the streets. We should go to some sort of a facility with courses where they teach us how to respect our own boundaries.. and then a whole set of other courses to teach us all about other people's rights. How do you expect the doctor to give you a fair treatment when the nurse has to block the door by force as to not let other people in while you're being diagnosed? How do you expect to get the doctor's full attention when there is some idiot outside the door banging like a maniac wanting in? What goes through YOUR mind when YOU cut inline??
I think the state of Kuwait's hospitals perfectly fits the state of it's People's mentality.
This entry was posted on Thursday, October 16th, 2008 at 2:06 am