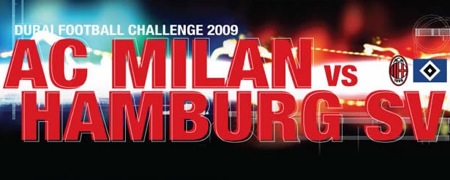 Taken from Time Out Dubai:
"This really will be a unique event for the city with a lineup of stars certain to thrill the crowds. We are looking forward to hosting this unforgettable encounter at the newly constructed Emirates sports venue, The Sevens"
Tickets will be available online from November 16 through Timeout Tickets while retail sales will start on December 3 at Costa Coffee and MMI outlets in Dubai and Abu Dhabi, Dnata offices and Virgin stores in Dubai as well as at The Sevens Ground.
AC Milan's Emirates-sponsored Winter Training Camp will run from December 29 this year to January 7 2009, with their clash against Hamburg SV taking place on Tuesday, January 6. Kickoff will be at 7pm at Emirates' sports venue, The Sevens, on the Al Ain Road.
Ticket prices are: AED 100 for adults and AED 50 for children under 12.
This entry was posted on Wednesday, November 19th, 2008 at 3:04 am