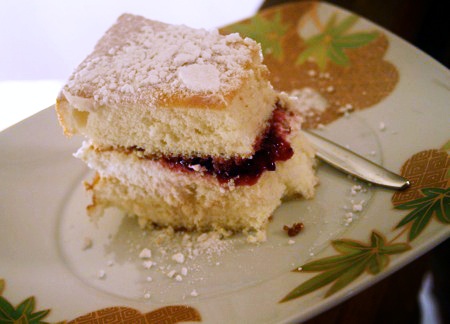 This is a cake Mom ordered from a woman who bakes and sell her homemade cakes.
I thought the cake was nice and light. Others thought it was just an average but heavy cake. It tasted like a plain saralee cake (can be found in every co-op) filled with jam and whipped cream. The cream tasted nice and unique in my opinion. I haven't tasted a whipping cream this nice in Kuwait before. The raspberry jam complemented the overall simplicity of the cake and made it feel like I was eating something healthy for a change. (I know jam is filled with sugar but it felt healthy!)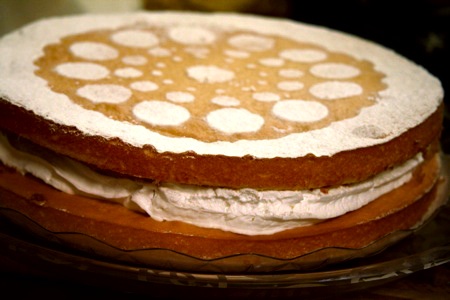 I liked it. Its not groundbreaking, but it was a nice change from all the chocolate filled cakes we're eating. It costs KD5 and is available in 3 flavors: Strawberry, Raspberry & Mango. It's called London's cake (kaikat landan).
BTW, I tried a piece of this cake after 24 hours of it's delivery and it wasn't the same at all. Best eaten while still fresh.
For orders call Tel# 99614534 her name is Om Faisal. I don't think they deliver.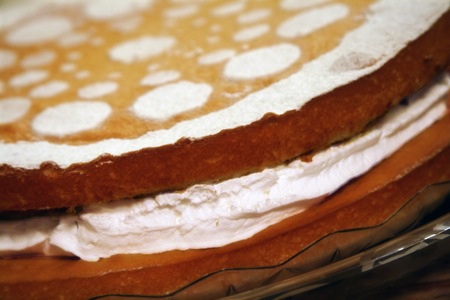 Note: I think this homemade cake can be easily done at home without using a single baking tool. Buy the saralee pound cake, buy a good whipped cream and a raspberry jam and then just layer them all and sprinkle some powdered sugar on top to make it seem like an achievement 🙂
This entry was posted on Tuesday, November 18th, 2008 at 9:07 am