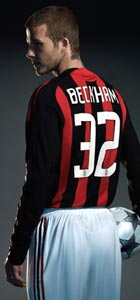 Rejoice AC Milan fans! lots of money and publicity coming your way! 😉
Excerpts taken from Channel 4:
David Beckham spoke of his "dream come true" at Milan in a long interview with Sky Italia presenter Ilaria D'Amico.
"Without a doubt this is a dream come true," he said of the move to the Rossoneri from LA Galaxy on loan until March 9.
"I am aware it's a difficult situation, as I have been following Milan's recent games closely. I could've played right away, but it is only normal that in a squad there are injuries and I can be among the replacements.
"I think this is an opportunity for me to play with Milan and share the success and history of this great side.
"It is also true that in a team like this you need to do your best and it's only natural there would be pressure around me and the whole side, but people are different all over the world and in each country.
"I don't know what the pressure will be like in Italy. I worked with Manchester United and all the pressure generated around that, the same happened in Madrid. I just want a good experience, to see what atmosphere there is in the stadium and that'll give me real encouragement."
"I'll enjoy myself and all, but I will then return to Los Angeles," said the midfielder when asked by D'Amico if he would stay for longer than three months.
"Victoria has always liked Milan as a city and comes here for the fashion week. We're staying here for three months. That's it."
Thanks Hamad
This entry was posted on Sunday, December 21st, 2008 at 12:46 pm