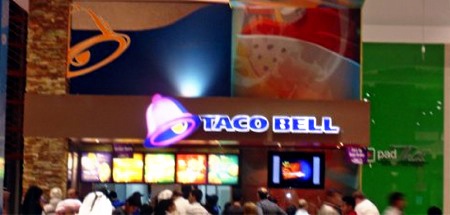 Taco Bell has a branch in the newly opened Dubai mall. Since it's in Dubai, I think the chances of it opening here in Kuwait have increased a bit.
I'm not one of those who love everything that isn't in Kuwait, like Nandos and wagamama, Everyone wanted them in Kuwait, I didn't, coz they suck (sue me). But it's different this time, I really hope Taco Bell opens up a branch here in Kuwait simply coz I'm fed up with all the sandwiches here. Mcdonald's patties have gone downhill for awhile now and no one seems to mind or even notice! I mean have you tried their cheeseburgers? why are their beef patties so damn dry?! and Hardee's… The posters they have plastered everywhere showing this big chicken sandwich covered in buffalo sauce…. Turns my stomach up.
I'm rambling. My point is, I think I need my fast food fix from somewhere new and different. Tacos could potentially be it.
Picture from Talal.
This entry was posted on Saturday, December 13th, 2008 at 2:22 am