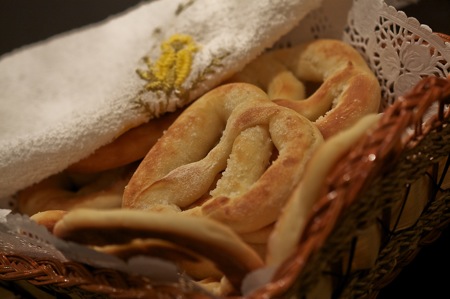 Mishary posted about the home made pretzels last week and we've been getting requests to post the recipe. Well, guys & gals, wait no more, here is the recipe:
3 1/2 cups flour
1 tea spoon salt
2 table spoon sugar
1 cup water
1 package yeast (khameera)
1 table spoon margarine (it's a butter substitute. You can use butter)
1 table spoon water
1 egg yolk (beaten)
Coarse salt (mil7 khashin)
Mix the 1 cup of flour with the sugar, salt and yeast. Heat the 1 cup of water and margarine (butter) to 120-130 degrees, then add it, gradually, to the mix. Beat for 2 minutes at medium speed, then add 1/2 cup of flour. Beat again at high speed for another 2 minutes. Then add some more flour till you make a soft dough (zeedaw 3almix 67een lain ibnetharkom t9eer 3ayeena layna.. mayabeelha '3isham). Take the soft dough and put it on floured board and work the dough with your hands for 5 minutes, then cover it and let it rest for 40 minutes.
Divide the dough to 12 equal parts. Roll the parts to form ropes, and then shape them into pretzels or any other desired shape. place on greased baking sheet and let it rest for 5 minutes while you mix the egg yolk and the 1 table spoon of water to brush on the pretzels. Finally sprinkle the coarse salt on top. Bake for 15 minutes at a 375 degrees.
o bil3afya 🙂
Thanks Saleya
This entry was posted on Monday, January 26th, 2009 at 12:00 am