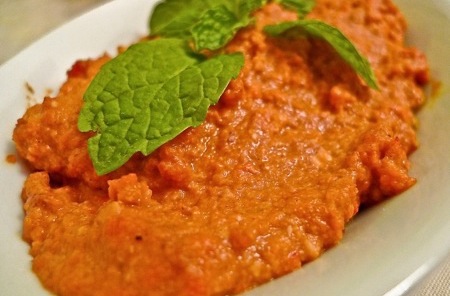 I thought the Sheraton's Mhammara was the best till I tasted my in-law's version. They got the recipe originally from fatafeat.com.
You're going to need:
4 red peppers (flaifla/felfel barid)
1/2 cup of walnuts (joz)
2 cloves of garlic
1 lemon's juice
1 Tablespoon of dibs ilroman (someone tell me what it's called in english please)
1 cups crispy, oven-toasted bread crumbs
1 teaspoon of sugar
Olive oil
Salt
Now to the part where we learn how to mix the above to create one of the best starters:
-Grill the red peppers till they turn blackish. Then put them in a bowl and cover with plastic wrap, and when they cool off, peal the skin, take out all the seeds and cut them up to pieces.
-Put the cut up red peppers and all the rest of the ingredients, except the olive oil, in the blender, and mix them till you get a thick texture. Then start adding olive oil while you're mixing till you end up with a creamy texture. Voila! you're done. Whip out a slice of bread and start dipping 🙂
Thanks Ahmad and Saleya for sharing the picture and the recipe.
This entry was posted on Sunday, February 1st, 2009 at 12:43 am