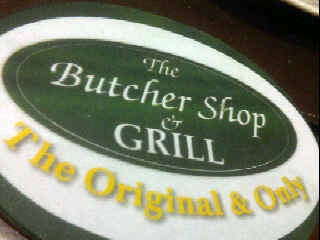 We went to the Butcher Shop in Avenues mall last saturday, and it was my first visit to Kuwait's branch, I've been to the one in dubai numerous of times and used to like it at first. The one in Dubai started off strong with quality meat and started it down spiral only months after it's opening.
I went to the one in Avenues coz my friends said that it's good. They've tried it and they liked it.
We were 7 and we ordered 7 steaks, 5 T-Bones and 2 Rib eyes. one of them was to be cooked Medium-rare, 2 medium-wells and 3 mediums. The waitress was confused and we had to repeat the order multiple of times and she still did not get it right, so we asked her to retake the whole order and rewrite it. She was a mess.
The starters came and were superb. The prawns with cream and lemon were very good.
The main dishes, the steaks, came and were a joke. they were all overcooked. All shades of gray when we started to cut em and not a single medium in there. They messed up the whole order (well except the rare steak, coz it came out pretty rare). When we complained to the waiter(s) they all seamed to repeat one phrase, which was "this is our medium steaks in here." The manager, who stood still and did not come even though he was looking directly at our table and hearing us, came to us after we asked to talk to him, he said the same thing too. He did not seem interested in our opinion nor in our dissatisfaction. Even after we got real angry he did not seem to be of much help and was annoyingly careless. He did however change 4 of our steaks in the end. (3ogob malawa3 chboodna)
The experience was an awful one. The manager needs to be changed coz he didn't seem to know what he was doing. I wouldn't go there anymore, not only because they did not know the difference between a medium and a well-done, but because the service, the manager, the chef and the quality of their meats are of low standards. charging 9+ KDs for this kind of steaks is a rip off too. If you're in a mood for good steaks treat yourselves to Terrace Grill in J.W. Mariott's or Gaucho's instead.
This entry was posted on Monday, March 2nd, 2009 at 7:22 am