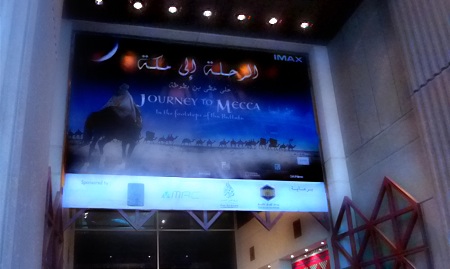 We were invited to the premier of the film 'Journey To Mecca' showing on IMAX in the Kuwait scientific center. There weren't a lot of people and the place looked beautiful as usual. (Side talk: I was thinking how it is funny when we want to talk up a place we always say machinnik bilKuwait "it's like you're not in Kuwait".)
Anyway. The movie tells the story of Ibn Batuta and his journey from Tangier, Morocco, to Mecca to do the Haj ritual.
I didn't know much about Ibn Batuta.. I mean I've been to the mall 😛 but didn't really know anything about the person. Pretty interesting life he must've led back then. He Left his family in Morocco to go to Mecca, and returned 30+ years later.. I guess he just couldn't resist riding passing by China and India on his way back to morocco.
The Journey To Mecca is now showing on IMAX in the scientific center of Kuwait, Gulf Road, Salmiya.
Thanks Hind
This entry was posted on Thursday, March 26th, 2009 at 12:09 am