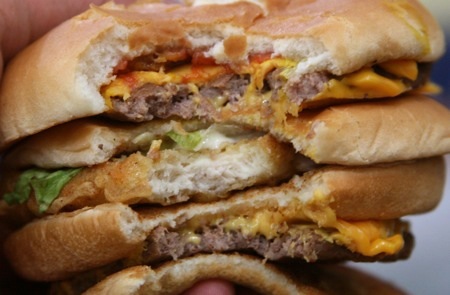 Inspired by Mark's post, my friend tried it and liked it, so He and I decided to have it this weekend. It was my first time making this McGangBang thingi, and If I had my eyes closed while eating I wouldn' haven known what the hell I was putting in my mouth.
The sandwich is basically a chicken burger shoved in a double cheeseburger. The process didn't make a mess, but I can't say the same about the way it tasted.. coz that was a complete and utter mess, the flavors were all over the place, and it was too big it had my jaw throbbing by the end.
It tasted like 4 buns and ketchup.. won't have it again.
This entry was posted on Sunday, March 29th, 2009 at 12:59 am