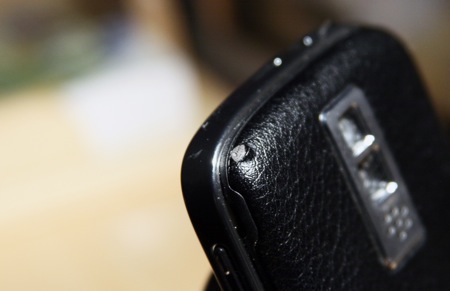 So yeah the inevitable have happened. The blackberry slipped, fell and hit the ground. You know there is always this sinking feeling when you drop something shiny and new, and then there is the few moments between the sound of your mobile crashing, and you picking it up with one eye closed dreading the sight you're about to see.. I hate those moments.
I always take good care of the things I own, be it a mobile, a laptop, a camera or whatever (I'm not like Mishary, I don't change my mobile every 3 days! I'm loyal to my mobiles and I use them till death do us part 😛 ) But then if something bad happens to one of my things, I just can't continue caring for it as much anymore. Once a mobile is scratched, I stop treating it with care. And now in this case.. my mobile isn't just scratched, as you can see, it got a tear on it!
9ar mobile moqawil.. fa if you guys know a place that sells BOLD covers in Kuwait, I'd be thankful. I gotta cover this ugly torn thing.
This entry was posted on Wednesday, March 25th, 2009 at 12:27 am