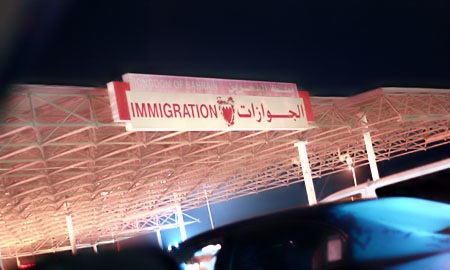 Phew! I just entered the house after a very busy trip to Bahrain. It feels like I've been running since thursday afternoon.
This trip was in the works for a long time, 2 weeks to be specific, but then at the beginning of last week it was kind of scrapped due to not being serious enough to book hotel room nor deciding on whether to go by car or plane. But then on wednesday, at 9:15pm, my friend decided to bring this trip up and insist on it. We looked at the time, 9:20pm, and decided there was still time to catch the quick service, to check up the car and prepare it for tomorrow's trip. I changed the tires, the breaks, the front discs, the battery, among other stuff.. a'3la min bai3 ilsoog, I know. Everything was in a hurry, even the hotel was reserved on our way to Bahrain.
I don't know why the way back to Kuwait feels much shorter than the way to Bahrain.. On our way there we were really bored and even felt like we might have lost our way coz it was so damn boring waiting to get there! It felt like downloading 500MB using a dialup! yeah thats exactly how it felt..
But hey, nevertheless, we had so much fun over there and I took many pictures to share with you guys. I'll share them all once I get some rest.. I'm exhausted at the moment.
This entry was posted on Sunday, May 31st, 2009 at 12:45 am