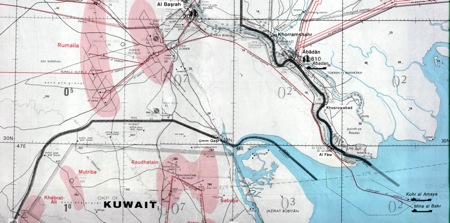 Both the issue of Kuwait's legal right for compensation from Iraq for the damages caused by 1990 invasion, and the borders issue were raised again by Iraq's Parliament members.
I don't get how they can stand there and ask Kuwait to drop the money owed, as a compensation, for something as horrendous as what they as a country did less than 20 years ago.
They also want to re map the borders from their internationally recognized borders, to what they think is their "historic" locations, which is a thing that totally negates the united nations resolutions. They also said that Kuwait wants to get past the borders demarcation issue because Kuwait wants to exploits it's neighbors natural resources as long as possible. They believe that Kuwait's stance is holding Iraq down and is causing harm to both countries.
One MP said that we shouldn't be too cocky to renegotiate the borders and the compensation issues, and that we also shouldn't be too trustful of the US and our american connections, because the US is closer to them now, as an ally, than it is with Kuwait.
This is what MP Saleh AlMullah had to say when asked about the issue:
"the sovereignty of Kuwait is above all other considerations" And "The Idea of giving up an inch of the country or any of it's financial or moral rights are not permissible at all."
Aren't you just mad at the accusations? I mean, couldn't a country with less bad name and violent history accuse us of such things?!
SOURCE: And most Kuwaiti newspaper.
This entry was posted on Wednesday, May 27th, 2009 at 8:19 pm