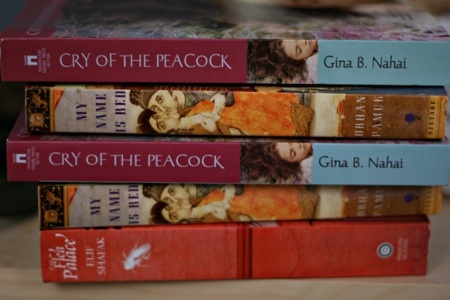 Yeah so I was looking for this book 'The cry of the peacock' in every country I'm in for about a year and a half now, I even told my brother to look for it all over london when he was vacationing there last christmas (maskeen dar 390 book shops with no luck. It's out of stock and print, he said). So I finally had to order something off amazon and thought might as well include a couple of books in the shipment (I hate ordering online coz I don't like to wait for stuff to be delivered. Yup I'd rather waste a year looking for the book instead). So when I finally received the book it turned out that I ordered more than one copy (not shifa7a, promise!). Anyones interested? I'm giving them away.. (the extra copies that is 😛 )
So.. (so many so's in one post), I want to say something to those who like to read and immerse themselves in good books with middle eastern backgrounds.
1-"The Bastard of Istanbul" by the turkish author Elif Shafak is one of the best books I've ever read, it's up there with the kite runner (yep thats the book I compare other books to). You have to read it if you haven't done so already.
2-Alf Laila's blog. It's a blog by a talented Kuwaiti author. I've been following her writings and stories for a long time now, and I think she's got the ability to write stories like the best of them. I hope she gets the recognition she deserves and I also hope that she finds it in herself to write the remaining parts of her latest story, Doubt, faster!
This entry was posted on Tuesday, May 5th, 2009 at 12:42 am