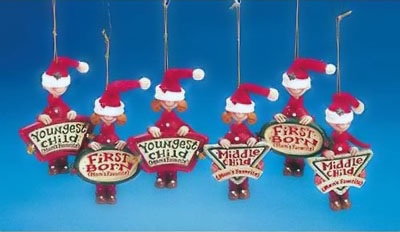 I found this article while I was not so busy at work today and I thought it got a lot of insight into the parents thinking and how they regard their children in terms of who's their favorite..
I've always wondered if it is possible to love all your children the same amount, or care for them just the same, but it never occurred to me that the amount of love is not what should be in question, but the closeness, the preferences and the way parents view their children in terms of "who has the special and unbudge-able place in my heart" kind of status.
Personally, and from the incessant questions my mother endured about this subject, I think she cares the same for her 4 sons, (I may have an edge over my brothers, but thats not fair to them, so taking me out of the competition, I think she loves the other 3 just the same).
But still it's very intriguing! coz aside from this guy's opinion, no parent gives you their honest opinion, except if you're not close enough to their families (minimizing the chance of you spilling the beans to their relatives).
That was the case today when I asked my colleague about her favorite child.. She began by saying something along the lines of "I love them all the same, I'm crazy about the second child, and the 3rd one is just too adorable… bla bla bla.." but when I pressed on, she admitted that she preferred her first born more, and that she is more careful when dealing with her, coz it's always an experiment with the first one, and that she can never refuse her first child anything. She also brought an interesting point to the table.. The grandparents! She said, my colleague, that the grandparents turn this first born child's image into something extraordinary, being their first grandson, the amount of love showered upon this little person is overwhelming, so you can't help but try and compete with your parents over who loves the child more, leaving the 2nd 3rd and 4th born children behind.
I think all parents have the same amount of love for their children, but I also think that the parents have their preferences and each has a favorite.
Read the article, it's interesting, honest and funny (it is not the least bit funny if you were this guy's 2nd born child).
This entry was posted on Tuesday, May 26th, 2009 at 12:12 am