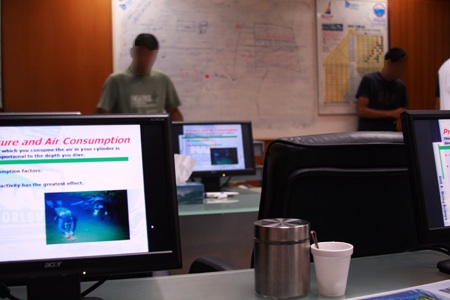 I've been attending diving classes for the past 3 days at Bubbles diving center. I don't know how my friend bo9ale7 convinced me to join, I'm not the sportish type; I never really think of 'activity' when considering an outing… coz well, let's just say I'm more of a restaurants person 😛 But I wouldn't have thought that I'd enjoy diving this much!
The diving lessons started on Monday and will be ending on Saturday. Over the last 2 days we were studying the basics of diving with Captain Abdulrahman AlSarheed over at Bubbles diving center. The classes were very informative, and have done a nice job preparing us for the real thing.
Today, the 3rd day into the course, we got to practice what we were taught. We went to a huge swimming pool in Al Araby club in AlMansouriya. The experience was magical. Going in with all those diving gears and breathing under water was one of the most special things I've done, ever.
I'm too tired to keep writing after the dip in the pool, but rest assured a full review of the experience and Bubbles diving center will be published once I get my Beginners License.
This entry was posted on Thursday, June 18th, 2009 at 12:04 am