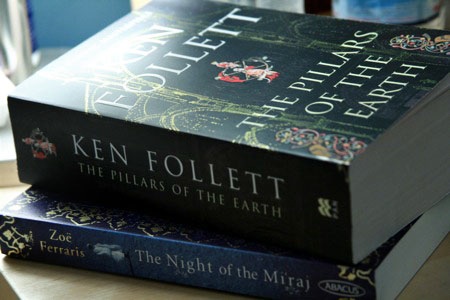 I finished The Lovely bones, which was a bit of a letdown. I mean people were praising it on the net and then book started out very promising, but throughout the book I was waiting for it to grab me, to get me hooked, but it didn't. I finished it because I wanted to know what was going to happen to the killer.
As I was reading this book I was thinking to myself that it isn't as good as I had hoped but that it would make a great movie. I just had a hunch about it, and just a few days ago I learned that it is a movie in the making starring Rachel Weisz, Mark Wahlberg & Susan Sarandon. It'll be out in theaters on december 2009.
I bought 2 more books from Bahrain last week and they're sitting there with the other pile of books that I bought. I read some but only finished the lovely bones. The 2 books above are The Night of the Miraj, and The Pillars Of The Earth. The latter was mentioned and praised on Intlxpatr's blog a long time ago and I finally got around to buying it.
I need a couple of weeks off just to read all the books I have piled up.
This entry was posted on Saturday, June 6th, 2009 at 10:59 pm