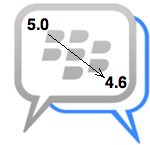 We posted earlier about the what we thought a new leaked software for the Blackberry messenger, but I guess we all know about that fake/corrupted file and how it contains many bugs, and in some cases fatal ones.
However, there is a solution..
FIRST BACK UP YOUR DATA
1. Then go to Options - Adv. Options - Apps - highlight BBM 5.0, press the menu key and delete it on your phone.


2. From there, connect your device to a PC, launch DM (Desktop Manager), go into APP LOADER (settings or options) and click bb messenger 4.6.0. Click next and it should install the previous version on your device that says (downgrade, not preferred) unclick bbm 5.0 if it comes up.


3. Then when u do that, do step 3. again but this time click preferred, that'll update ur phone back to before, just w/o that new bbm.

Thats it 🙂