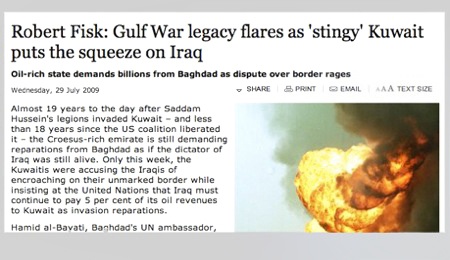 I don't know who to blame, the envious countries claiming to be friends and allies only to jump and stab us from the back once they get a chance, or blame us, Kuwaitis and Kuwait as a nation and the way we "market" ourselves to the unfortunate countries around us, the countries which God did not bless with the fortune we have and enjoy.
Why are we so misrepresented? Someone needs to be pointed at and be blamed for that. In my opinion it's not the people, coz the people helped till they grew skeptic with the amount of ungratefulness they saw and felt. Is it the government? Couldn't they market Kuwait and shed a better light on the nation? I don't know. It's just frustrating.
I remember Mom telling me that we, Kuwaitis, since we got rich from the oil, we were always caring for other Muslim and Arab countries around us. Supporting them and being charitable towards them, and thats not just a move the governent is making for diplomatic purposes, but us the people too. My mother used to tell me how when she a little child in school, how everybody took it as a personal duty to fill all the little pigy bank (7a9ala) they used to hand out in schools whenever some country was in need. She remembers that she, even as a little child felt that it's her duty to help, She used to fill up those 7a9alat every time, and it went without saying that every 7a9ala must be filled and handed back! clothes should be sent, blankets, tents, rugs, whatever those people needed, we must help. From Algeria's days to Palestine to Somalia, Yemen..etc We always helped and helped a lot. Even I remeber how proud people were at my school when their name would be mentioned after handing back a full 7a9ala. Generation after generation we were taught to GIVE.
And now we here about iraqis accusing Kuwait of being greedy and "want to stir past conflicts". And we have The Independent writing pieces about a "Stingy Kuwait". Really? Are we really stingy? Were we ever that bad? Haven't we done enough good deeds to shut all haters up? Yes we did, but it's not marketed right. Or at least thats the only reason I could come up with.. Enlighten me if Ive missed something.
But for people to judge us because we still can't forget that we were invaded (19 years today) and unwilling to give our right for reparation up.. I think it's just a tad too much.
I'm not gonna read and edit the post coz I know I'm gonna have second thoughts and delete it.. so there.
This entry was posted on Sunday, August 2nd, 2009 at 1:34 am