Prelude:
There was an italian food lover back in the 1920's who married a woman that came from a family famous for their good taste and restaurateur-ship. The couple had their first child in 1959. Soon afterwards the husband decided to open up a restaurant as a gift to his wife, and they named it Margherita. Their child grew up and inherited his Mom's good taste and passion for cooking. Almost 50 years later this child opened up his own Margherita restaurant in Gemayze, Lebanon.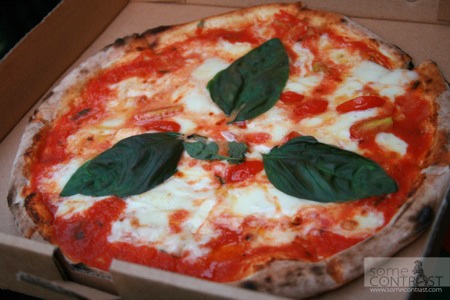 Review:
I thought the story was worth mentioning, it's a nice one.
Anyway, We went to this restaurant when we were in Lebanon 2 weeks ago, during Ramadan, but unfortunately when we got there we discovered that they don't serve anything but pizza till 8pm. Me and my friends were fasting, and while we would've loved having a pizza as a side dish or a starter, there was no way on earth we're going to settle for pizza as a main dish, after all we were fasting and unbelievably hungry from the long day we spent in beirut. So, as my friends were preparing to leave the place, I couldn't resist ordering a pizza to go. I just had to taste it, coz I heard some pretty nice things about their pizzas (and yeah the place smelled heavenly. It was killing me). And believe you me when I say that this is the best pizza that I have every tried! The dough is so crispy at the edges, and then sooo thin in the middle that it is impossible to lift with one hand, you'd have to lift with both hands to support the middle section. The tomato sauce, cheese (mozzarella. I asked for their best pizza and they recommended the Margherita pizza with mozzarella slices.) along with whatever spices they put in there, all were exceptionally tasty and full of flavor.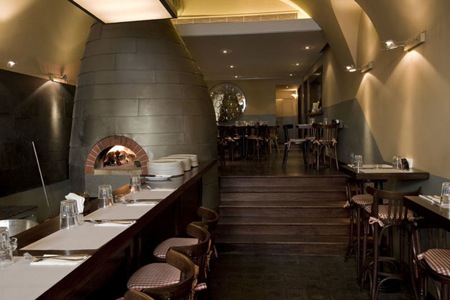 The restaurant is pretty small and cozy, with a big pizza oven in the middle of the place. Also the staff were very friendly and welcoming (except for when I asked to take some pictures).
You've got to try this place out. Highly recommended.
This entry was posted on Thursday, September 17th, 2009 at 4:31 pm