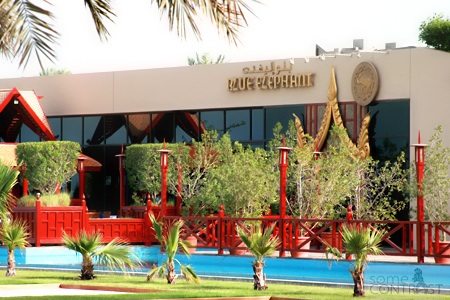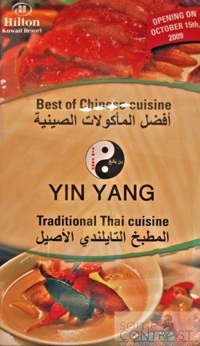 While I was at Hilton AlMangaf I saw a couple of banners advertising a new thai restaurant that'll open soon in the hotel. I didn't think it was very smart to have 2 thai restaurants within the hotel, they already have the Blue Elephant.. So I asked the receptionist, and it turned out that the Elephant is going to be put down, and a new one is taking it's place. The new one as you can see from the banner, is called Yin Yang, and they promise an authentic Thai food. (Wasn't the Blue Elephant authentic enough?)
I asked her again, "Will the staff of Blue Elephant remain and work in this new restaurant?" And she said "yes the staff would remain unchanged," and that it's just a name change.
If what the lady said is true then I guess this is good news to those who liked the blue elephant. But seriously if you're looking for a real good thai food (and can overlook the extreme modesty of the restaurant's interiors), then you've got to try Oriental Cuisine. I reviewed it back in April.
Anyway, Yin Yang is opening on the 15th of this month.
.
.
This entry was posted on Sunday, October 11th, 2009 at 9:11 am