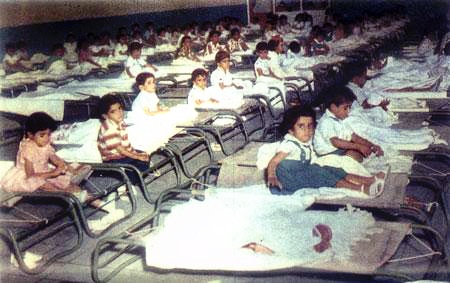 Kuwait's Kindergartens back in the day used to be from 8am to 4pm. They used to provide the kids with lunch and snacks, and they also used to let them nap during noon time.
I showed my mother the picture above, and she remembered the big hall where they used to sleep. She had this to say:
"I remember that big hall, and I remember that I cried for a whole week because of that hall. I hated the idea of sleeping in that hall and I didn't like leaving home to Kindergarten in general. My father didn't like seeing me crying like that and decided not to have me go to the kindergarten anymore, and instead remain at home till it's time for 1st grade (ibteda2y).
I have a cousin who is my age, but was a year ahead of me in school, I didn't realize the reason behind her being ahead of me till recently.. I was sorta punished for not attending Kindergarten.. they made me stay in 1st grade for 2 years. I don't know how they did that, and how my family allowed that to happen. But back in the day, Kuwait wasn't so organized when it came to matters like this (kanat 3ayma isalfa)."
I think this system of having the kids nap at noon time was stopped during the 70's or early 80's. I remember in our days we used to have breakfast and snacks.. no naps, and we'd leave home early, 12:30 or 1pm tops.
According to the email I received the picture was taken at Balqees Kindergarten in AlDasma.
Thanks H.A.S.
This entry was posted on Saturday, October 24th, 2009 at 10:34 pm