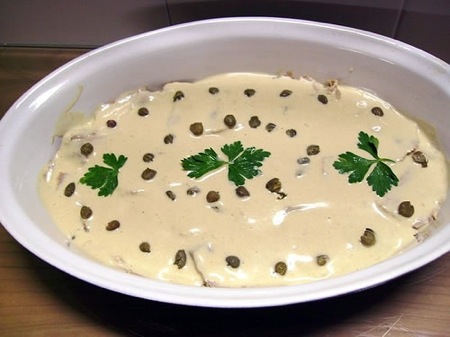 I don't know how many of you guys know what is Vitello Tonnato, those of you who know what it is will really appreciate this post 😛
I got to know about this dish at Roberto's restaurant in Geneva while I was on vacation a couple of years back. It's a great dish, and it's a difficult dish to accept if you're not OK with trying out new things.
Vitello tonnato: is a veal carpaccio, only with thicker slices, and topped with creamy tuna sauce.
I know the creamy tuna on a slice of veal doesn't sound appetizing, but it's great, I love this dish and it is very hard to find in Kuwait. While we were at the Ricardo this past weekend (which is a great restaurant. I regret not taking the camera with me) I found this dish on the menu and had to order it. It was very good, not as good as the one at Roberto's but close enough. Aldente restaurant in Movenpick also serves this dish but it's nothing like the real thing.
This entry was posted on Monday, October 19th, 2009 at 12:21 am