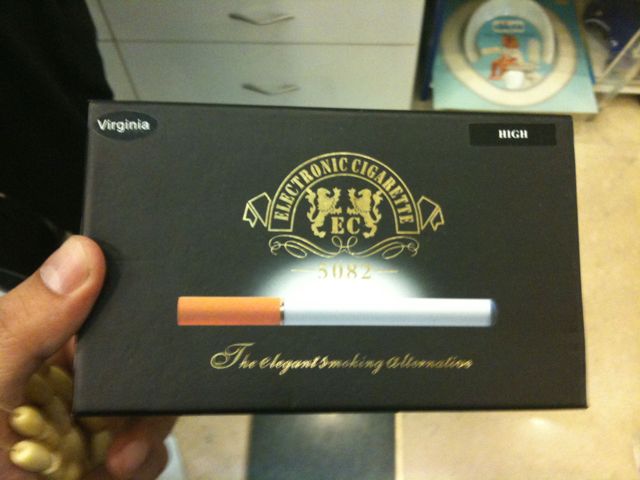 I was at the airport the other day, and while in the pharmacy I found what some of my friends were looking for but couldn't find. It's some sort of cigarrette quitting tool, an electronic cigarette if you may, that's been hard to find as of late. The box contains one cigarette that is rechargeable. It's for KD25.
I encourage all of the smokers out there to keep trying. I'm sure you can do it.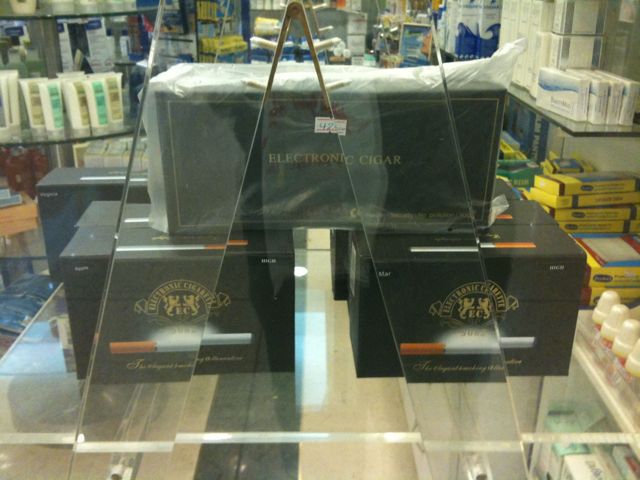 More info from their site:
Health Benefits
Harmful substances such as tar and tobacco are removed from electronic cigarettes as well as the other chemicals which have proven to be scientifically related to lung cancer. This means that electronic cigarette is the healthier option for smokers without the usual concern over its harmful health effects.
Financial benefits
While many baulk at the price of a standard electronic cigarette starter pack (retails for around $150 on average), they tend to overlook how much more money they would be spending over time if they stick to tobacco cigarettes. With the global hike of tax on tobacco and government initiatives to regulate smoking, there is only one direction which the cigarette prices will go, and that is up. Electronic cigarettes, on the other hand, will most likely not be affected by such regulations.
Eco-Friendly
Electronic cigarettes help to create a smoke and odor-free environment as they produce smoke-like vapor mist that are inhaled instead of smoke that are harmful to the human body produced by lighting up the traditional cigarettes. The electronic cigarettes are also rechargeable devices which simply require the replacement of nicotine cartridges, causing minimal stains to our environment unlike the flicking of cigarette butts and ashes.
Convenience
If you are a smoker, you must have been inconvenienced one way or another by the smoking ban that has been imposed in various countries over the last couple of years. In the past, you could literally light up anywhere you felt like even in public, but these days, you are confined to restricted rooms and designated spots just to get a simple nicotine fix. The electronic cigarette will help with this frustration as it does not produce any smell or smoke, thereby entitling you to use it anywhere in public when the urge arises.
Below a video about the way it workss
This entry was posted on Monday, November 23rd, 2009 at 8:12 pm