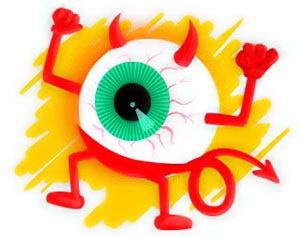 Envy and el7asad is something mentioned in the Quran, it's not something we're debating nor questioning. But don't you think we've been giving too much credit to the "Evil Eyes"?
People can't have a bad thing going in their lives and not blame someone for the misfortune. No one can get into an accident anymore and not contribute it to an evil eye. it's always 7asad, always an animus someone who has an eye out on them.
I knew it got out of hand when my brothers accused a post I did of causing harm to a member of our family. Yep they think my post had something to do with it. This means that il3ain il7arra can now travel through the internet!
I know another person who was telling me that she doesn't share her travel plans anymore, reason being: "I went through many serious cases of 7asad and ended up not enjoying my vacation because I shared my plans with my relatives."
Are people taking it too far? or maybe having an answer as to why things are going wrong and accusing an outsider is far more convenient than having to search for one's mistakes.
I don't know if I'm overly open when talking about things that are going in my life, or if people are getting overly secretive. One thing I know though.. People are giving way too much credit to il3ain il7ara.
This entry was posted on Sunday, November 29th, 2009 at 12:05 am