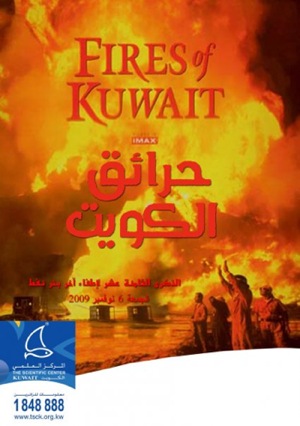 This coming friday, the 6th of november, will mark the 18th year anniversary of extinguishing the last of the Kuwait oil well fires. And for this occasion the scientific center will be showing Fires of Kuwait on their IMAX theater during that day.
Press release:
In commemoration of extinguishing the last of the Kuwait oil well fires18 years ago, The Scientific Center will be exclusively showing the IMAX film 'Fires of Kuwait' on Friday, November 6, 2009 hourly from 2:30pm-9:30pm. Engineer Sara Akbar, the only woman to participate in the extinguishing efforts, will be present from 4pm-6pm to give a speech about her experience and to sign autographs. This anniversary coincides with the United Nations' International Day for Preventing the Exploitation of the Environment in War and Armed Conflict. A press release by the U.N regarding November 6 said that "on this day, we would like to renew the commitment to preventing the exploitation of the environment in times of conflict and to protecting the environment as pillar of our work for global peace and sustainable development".
Fires of Kuwait is a film about the effects and damages to the environment caused by the oil well fires. The fires were put out in seven months, a feat that many experts believed would take three years. To mark the occasion, each ticket will cost only KD 1.800 for either adults or children. To book tickets online go to www.tsck.org.kw or call 1 848 888 for any enquiries.
This entry was posted on Wednesday, November 4th, 2009 at 11:12 pm