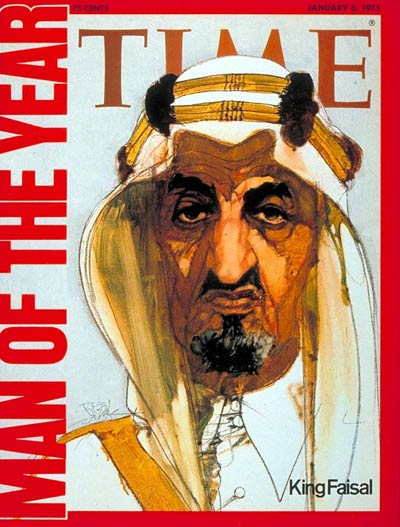 I received a message on my blackberry earlier in the day, it was about King Faisal and how great a king He was. It had this little piece of conversation between King Faisal & Henry Kissinger that went something like this:
When Henry Kissinger met King faisal to talk about the oil embargo issue, and in an attempt to go into the subject lighten up the mood, Kissinger said something about his plane sitting on the runway and can't move because of the lack of fuel, and that he wished the King would be generous enough to sell him enough fuel to get the plane off the runway. The King didn't smile, but instead replied with: "And I'm an old man who wishes to pray at Al Aqsa mosque before he dies, can you make that wish come true?"
I loved this story, and I tried looking around the net to read more about it, and maybe confirm that it happened, but couldn't find anything.
While looking for a source, I came across these paragraphs that I liked: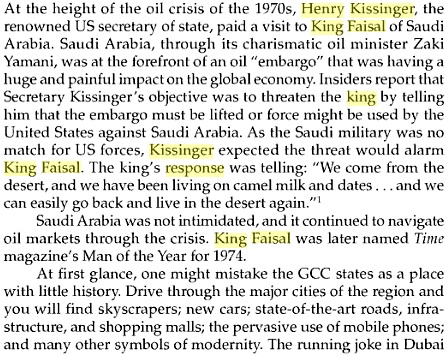 And this:
"Prince Turki said King Faisal, who was in Jeddah at the time, received a telegram from Kissinger warning that if the Kingdom did not lift the embargo, the US would take all measures to protect its interests.
"The message was not specific about the measures they were going to take, but it appeared that they would use force. A CIA representative gave me the unsigned message, telling me it was from Kissinger… I went to the king and conveyed its contents. He received the message, read it and said: 'Kheir insha Allah (Good, God willing).'
"It was very clear that it had come from the American government… The king was very relaxed, cheerful, humorous and was in good spirits despite the threat… This reflected his high quality and determination. He was giving the message that the Kingdom would not bow down to a threat, as a result of a decision it had taken with other Arab countries. It was a great reply," said Prince Turki."
I find King Faisal very strong, wise, down to earth, blatant and honest.. an interesting mix that led straight to his assassination.
This entry was posted on Thursday, November 5th, 2009 at 1:09 am