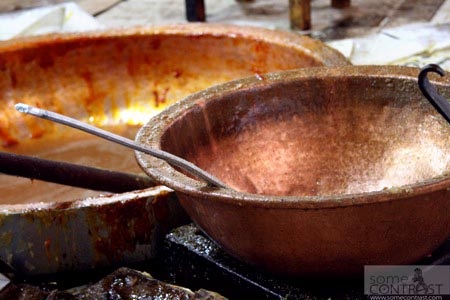 Most of us if not all know about Showaiter Sweets from Bahrain. Showaiter Sweets is Bahrain's trademark, and you just can't go to Bahrain without passing by and buy some Halwa for you relatives. And I always wanted to see the factory. I've seen how they make the Halwa on tv, but I had to go to the factory this time. I just had to. I asked around and learned that the factory is in Almuharrag. We went there and started looking for it. We found the shop where they sell the halwa and the nice guys at the shop led us to the factory, which was 5 minutes away.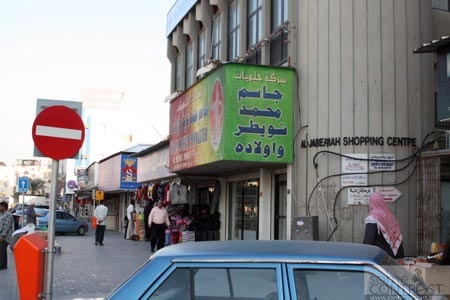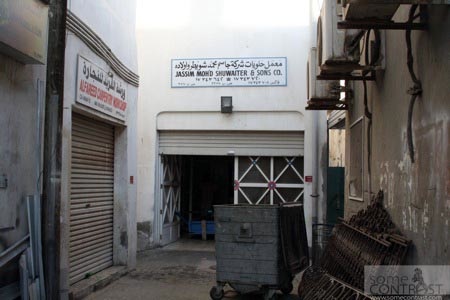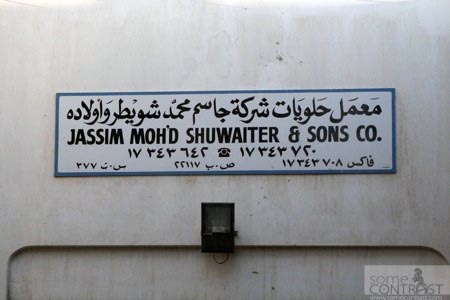 The place from the outside did not look like a sweet factory, it looked more like a garage, a dirty garage at that. We entered. It was a little bit unclean. Boxes and discarded cartons were everywhere. We entered a small closed area where we found a couple of guys, facing each other and hunched over what seemed like a big, deep frying pan, that had all sort of smokes coming out from it.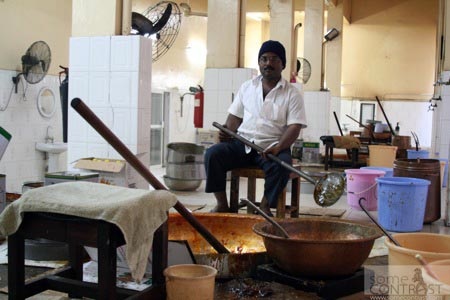 This was it. The place I longed to see was right in front of me and I was not the least bit excited. Actually I was disappointed.
The sweet was being prepared when we arrived and I managed to get over my disappointment and take some pictures.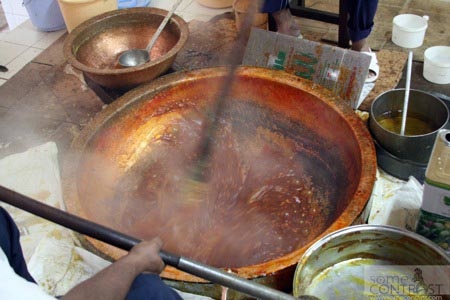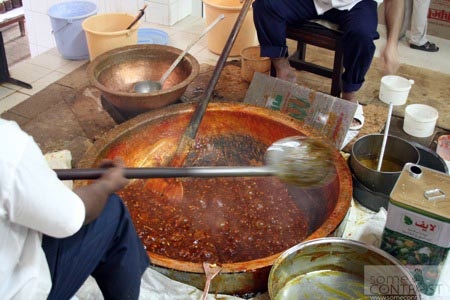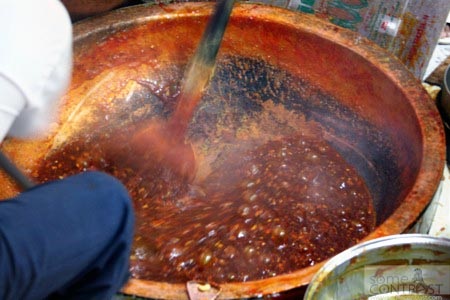 As you can see, we were all shocked at the state of the "factory" and the people working there.
The halwa itself did not look unclean, just surroundings. (We bought some)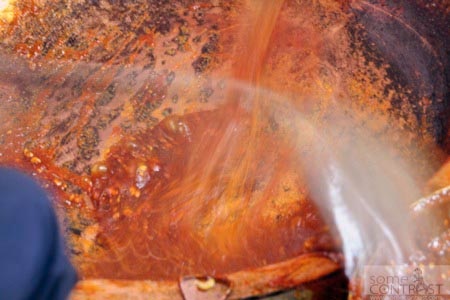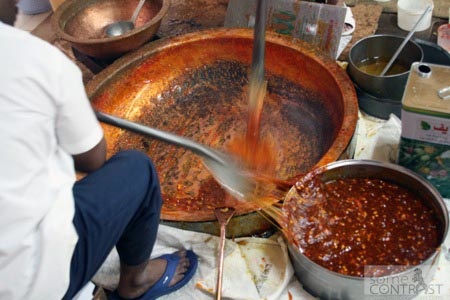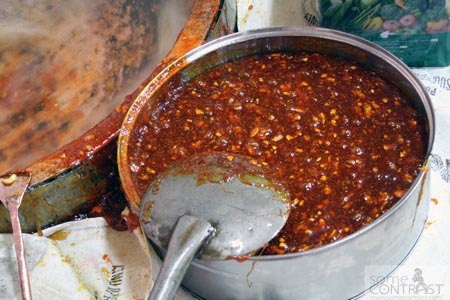 But! on the the other side of the room, 3 guys were hunching over a plastic bucket, and they looked like they were filling some cans. My friends, who looked flushed and disgusted were waving and calling me silently to come over and see what those 3 guys were doing. So I went over there and got closer to the 3 workers.. I was totally blown away by the disgusting scene. You know the famous Bahraini Jam? we call it "trining" I think.. a big load of trining was in the big bucket, and the 3 guys were grabbing the jam with their bare hands and filling the cans with it. Bare hands people. They were up to their elbows, dripping with jam, with their watches and rings on, filling the small cans and then handing the cans to another guy so he could wipe them and send them off to the shop to sell them.
One of the guys pulled his hand out of the bucket and was offering me some jam. He actually insisted that I take some jam off of his bare hands (rings on) and try some. I thanked him and did not even go near him.
I remember when I saw how they do Halwa on tv, the place looked clean! very unlike what we've seen. Maybe showing up unannounced has it perks.. I still remember my friends faces as they were standing next to the jam people. We were all shocked and disappointed at the sanitary condition of the place.
This entry was posted on Thursday, January 14th, 2010 at 1:40 am