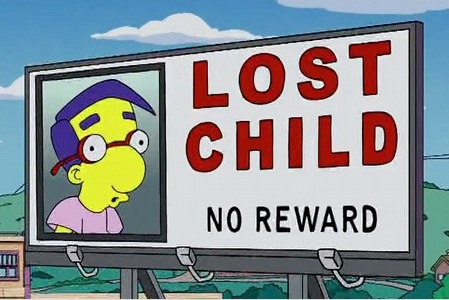 Have you ever scared your parents to death by getting lost?
I did. Twice.
The First time:
1984 In Turkey.
I have no recollection of this incident coz I was only 2. They told me that they were sitting in a big garden and all of the sudden they couldn't find me. They scanned the whole garden and went to it's edges trying to find me, with no luck, and after some time, they found me at near the place where they were sitting originally, but behind some trees. I was sitting on the ground and throwing little pebbles at something that made a sound. They said I was totally transfixed on the sound that I did not notice I was alone.
The Second time:
1987 in Brighton, England.
I was 5 and my brother was 9. He and I were at an amusement park at the beach and we ran out of money. The apartment wasn't very far away, so my brother came up with a brilliant idea. The idea was: I should wait at the park, alone, while he runs back to the apartment and get some money. He pointed out the white building where our apartment was located to assure me that it wasn't that far and that I should wait, so I agreed. He asked me to stay near the giant 'ball pit', you know the big pit with lots of little plastic balls in it (like this one), and I did, I waited for him to go to the apartment and back.
I waited for what seems like an eternity (you know how kids are) but I was getting bored. I dug my hands in my pockets, maybe to find something interesting to play with, but I found a couple of pounds, so I thought "why not play inside the ball pit rather than wait for him outside and be bored?" So I went in, I played for a long time and I was again getting bored, and my brother wasn't here yet.
I got out of the pit, and waited outside for a little bit, it was getting darker and I was losing hope and I remember thinking maybe he forgot about me. So I raised my head and saw the white building and decided that maybe it's not that far for me to walk back alone. Yeah! why not. But on my way I found my dad and uncle near a food stand buying some food, and they took me home. I remember thinking "Oh my dad is there, what a coincidence, let me go to him instead of walking back to the apartment alone."
Now, what really happened was: My brother came back and looked around for me but couldn't find me, so he got scared and went back to the apartment and told everybody that he had lost me. My father and uncle got freaked out and went out looking for me. My mother who was in the shower got out and put something on and went looking for me with her hair still wet. A major freaking out occured while I was playing inside that ball pool. And when I saw my dad at that food stand, turns out they weren't there buying food (Duh!) they were asking everybody in that amusement park if they came across a little 5 year old boy.
This entry was posted on Thursday, February 18th, 2010 at 12:54 am