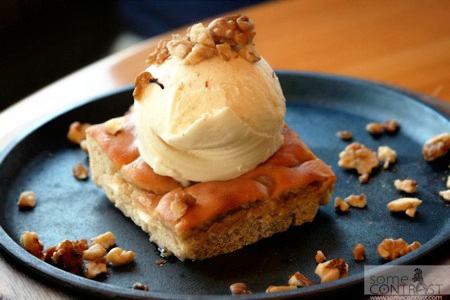 After having lunch at Maki we decided it's time for a great dessert, and the white chocolate blondie was so fitting to our post Maki mood, (Speaking of Maki, did you notice how Maki's menu has more deep-fried mayo-covered and cheese-sprinkled dishes than any of the fast food joints? that's not the point of the post)
The white chocolate blondie is a dessert available in Applebee's, it's basically a white chocolate cake with bits of walnuts in it, it's chewy and a brownie like in texture, topped with a vanilla ice cream scoop and white buttery maple syrup sauce, all presented in a hot skillet. It's thick, delicious, filling and Sweet and is guaranteed to ruin your figure in seconds so don't attempt it if your health matters at all. (and I digress again).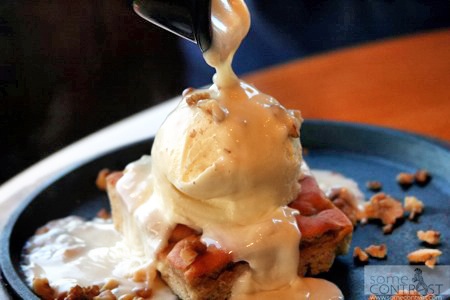 The thing is, it has changed, and isn't the same anymore. They changed the recipe, it was a great disappointment. We let the manager know that we hated it. He was a nice guy and he admitted that he was worried when he knew we were here just for the blondie, coz he had many blondie regulars over the past couple of weeks complain about the sudden change in the recipe. So yeah, he told us he's going to let their american suppliers know about the negative feed back and all.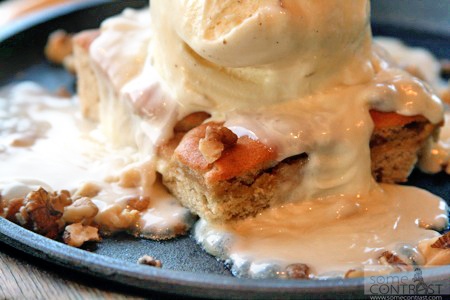 The White Chocolate Blondie in it's heydays was the best dessert anyone could have in Kuwait!
This entry was posted on Wednesday, March 17th, 2010 at 12:23 am