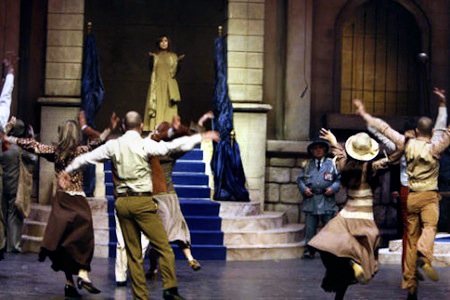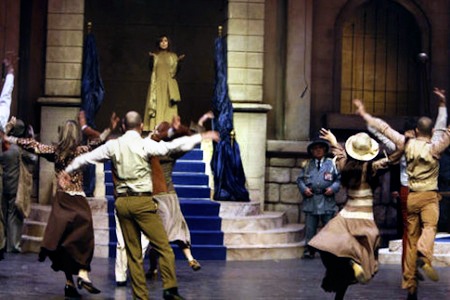 Fairouz is amazing. Her musicals are great. My favorite musical is Baya3 AlKhawatim, ofcourse, and 9a7 Alnom has to be a second favorite, then comes The days of Fakhr Aldein and some others. I love the production and how simple the sound is and ofcourse her voice.. (I'm stating the obvious I know).
The lyrics especially are deceivingly simple. The writers are really good, those Rahbany brothers, They write about real every day life, and throw in many hidden, and sometimes not so hidden, jabs at the political scene and country's top people.. I love how they mix their political views and worries with romance and love. I think it's a great mix, a smart mix! Making somber topics so easy to digest is smart. And to top it off, all of the lyrics still ring true and are as fresh as the day they were written.
If you haven't heard صح النوم yet, you should. It's amazing. Here is a bit about it from the Booklet:
People stand around the public square, awaiting full moon, petitions to build houses and shops in hand for the Wali to sign. The Wali wakes up only on such a day every month and signs three petitions only to preserve the state's historical stamp.
Among the crowd, Krunful, petition in hand, waits for the Wali to stamp it. Six full moons had passed and her petition was not stamped yet. The Wali appears, as the moon rises in the sky. Cheers are heard as the traditional ceremonies start. People rush and place their petitions in front of the Wali who selects three, stamps them and being overcome by slumber goes back to sleep. When the square becomes deserted, Krunful who hid behind the Wali's chair, steals the official stamp and stamps all petitions, then throws the stamp into an old empty well. Petitioners, seeing their petitions stamped, start working. A month passes by, the Wali wakes up and discovers the theft of the the stamp. Interrogations reveal that Krunful as the theif. She is sentenced to be tied to a wild horse and let loose for the rest of her life. But the sentence needed the stamp to validate it.
This entry was posted on Thursday, March 25th, 2010 at 1:41 am