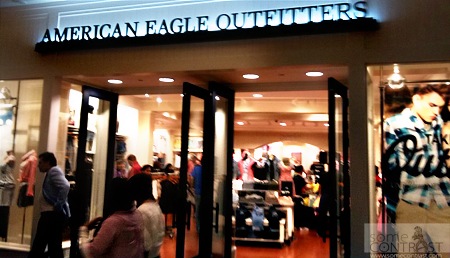 I went right after the opening on thursday and the place was exploding with customers. It was a nightmare, a good nightmare, coz everything was worth buying! I loved the collection (I've never been to an American Eagle and own none of their stuff so it was all new to me). The queue for the fitting rooms was ridiculous, I was wondering how were the staff coping with it (Surprisingly they were on top of things).
My friend asked a lady who worked for AE and was at Dubai branch's opening if it was as crowded as it is in Kuwait (First branch in the middle east opened in Dubai on 17th of this month) She said that they are surprised at the amount of people who showed up in here and that "the turn up is at least 10 times Dubai's."
The staff although busy as hell were ready to answer questions and fetch things for me while in fitting room. Great collection. Bought 3 shirts and 2 shorts. Good stuff!
I'd go in the mornings if I were you or right after work coz I wouldn't wish that queue even on enemies.
This entry was posted on Saturday, March 27th, 2010 at 9:37 pm