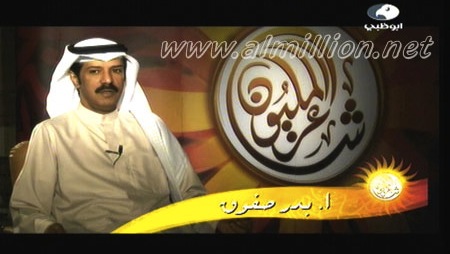 I don't know this guy and I didn't know he existed till 10 minutes ago, when I read a mobile message with a link to his article published on Qatar's AlWatan newspaper dated April 11th 2010.
I'm all for accepting other people's opinions, but for some reason I didn't accept one word from this article, and thought it was a cheap attempt and uncalled for, Especially that it's on a Qatari newspaper. My blood is boiling 🙂
Sorry no english translation this time around. It's too much to translate as you can see.
بدر صفوق
مجلس «البزران».. الكويتي
الديمقراطية حلوة جداً.. لمن يتعامل معها بشكلٍ راق.. ويقبل بنتيجتها.. أيا كانت فهي عبارة عن لعبة شد وجذب..ومن وجهة نظري البسيطة ان أول من وضع قانون ديمقراطي في العالم العربي الاسلامي هو الصحابي معاوية بن أبي سفيان عندما قال «والله لو بيني وبين الناس شعرة ما انقطعت» ككناية عن الشد والجذب.. اللذين تتعامل بهما النفس البشرية الواثقة من نفسها والتي تتقبل اختلاف الرأي.. والتباحث به بكل أنواع.. الدهاء.. الحنكة.. الخبرة سمها عزيزي القارئ ما شئت «حتى لا أصادر عليك رأيك».
ولكن ما يحدث في الديمقراطية الكويتية الآن.. «وبمجلس الأمة تحديداً».. منطق «بزارين». والبزارين لمن لا يتكلمون الخليجية تعني «أطفالا»..«وليس أي أطفال بل.. أطفال شوارع صايعين وحرامية.. وبلطجية.. ويشفطون باتكس» بعد.. والباتكس نوع من أنواع الغراء التي يلصق بها عمال الأثاث المنزلي السجاد على أرضية المنزل يستخدمها للتوهان أطفال البرازيل الذين يسرقون المارة عنوة في شوارع ريو دي جانيرو «شفتهم بفيلم».
وبما ان لدينا الآن خمسين «بزراً» بجانب الحكومة التي لاتختلف عن عقلية هؤلاء البزارين ولكن توّها.. «مخليّه الباتكس» فقد صدمت بمستوى الحوار الهابط الذي يتم داخل قاعة الشيخ عبدالله السالم «أبو الدستور» فهناك نائب يقول للآخر «جــب» والآخر يقول لآخر «كِل تبن».. وثالث يصرّح ان ثلاثة أرباع المجلس «مفوشحين» والفوشحه طريقة للمشي لمن تمت له عملية «طهور» وهو كبير في السن.. وآخر يردح لنائبة في المجلس بأنها «حرامية» والبنت تبكي وتقول له باللهجة الكويتية الجديدة «بأتحداك ازا عندك ورق فرجيني اياه».. وبزر يريد مقاطعة البزر الآخر لأنه يتكلم عن بنت خالة زوجته التي تعمل مديرة ادارة.. وذاك يقول لزميله البزر «الأقدم منه عضوية» في الشارع.. عفواً مجلس الأمة الكويتي.. اذا فيك خير.. اطلع بره.. وهذا يقول لذاك أنت كذاب أبن كذاب.. والآخر يرد أنت واطي ولا أنت كفو.. وآخر يقول ان زملاءه البزور.. كلهم «هابشين من الحكومة الّي توها مخليه الباتكس وطايحة بالشم».. وأخر يقول لآخر «أنت مو ولد أبوك» مما جعلني أرى ان مجلسنا غير الموقر.. وحكومتنا ربع الموقرة «عشان لا يقطعون الراتب» يجب أن يعتمدوا شرط عمل فحوصات الـ «d.n.a» لكل من يتقدم للترشح لمجلس الأمه أو من يتم اسناد وزارة اليه.. حتى لا يدخلوا البلد بحيص بيص.. وتعال فاكك عاد.
وبما انني أحترم مبدأ الاختلاف وأؤمن بالديمقراطية والحوار مع «الرجال فقط» فإنني أرى أن يتم تحويل المجلس بأكمله مع الحكومة «ربع الموقرة» لسجن الأحداث لأنني أعرف ان هناك عقابا لكل من يشتم زميله في ذلك السجن «التربوي» بطريقة تجعله يفكر ألف مرة قبل أن يشتم مرة أخرى زميلا أو مشرفا أو حتى عامل النظافة الآسيوي.
وبما ان شتائم البزور الآن أصبحت حديث الساحة الخليجية والعربية وخوفاً من أن نصبح مثل برلمان تايوان وكوريا الجنوبية الذي وصل فيه الأمر لتبادل الضرب بين أعضائه فإنني أقترح توزيع حارس بين كل «بزر» و«البزر» الذي يجلس جواره حتى يستطيعوا التفريق بينهم لو فكر أحد باستخدام السلاح «الأسود» الذي يتم وضعه فوق الرأس ويسمى في اللهجة الخليجية «العقال».
أخيرا:
!!! «البلد تسير الى الهاوية منذ وقتٍ طويل.. ألا يوجد فيكم.. «حكيم
Thanks Fawaz
UPDATE:
And Kuwait's AlWatan newspaper responds!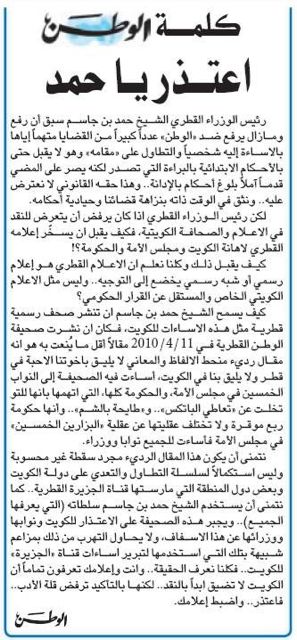 Thanks Khalid for the update.
This entry was posted on Monday, April 19th, 2010 at 5:43 pm