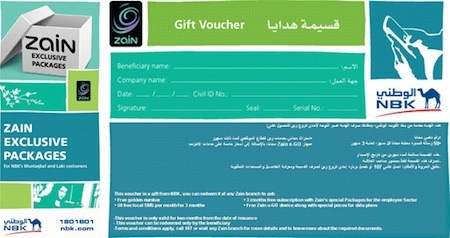 Zain & NBK have teamed up to provide an interesting offer for Laki & Mustaqbal accounts. Click on the picture above to view a bigger version.
Transfer your salary to NBK and get a chance to win Kd 5000 weekly, and an instant gift voucher redeemable in any ZAIN branch. You get:
Free gold number.
50 free local sms per month for 3 months.
3 months free subscriptions with Zain's employees packages.
Free Zain E-Go.
Offer valid until July.