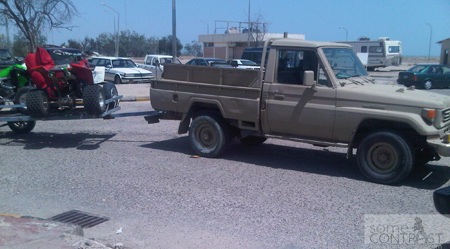 Whats wrong with this picture? It was captured on saturday in Failaka.
Well. It's a car pulling 4 buggies back into the ferry boat in order to get back to the City after a nice a weekend on the island.
Except that it's a Military car. Being used by a guy when he is Off Duty. Pulling 4 buggies that were on the island to be rented throughout the weekend.
How could a Military person misuse a MILITARY car for such personal gains in broad daylight!?
!مقيولة: من أمن العقاب أساء الأدب
Thanks Fawaz
This entry was posted on Monday, May 10th, 2010 at 10:00 am