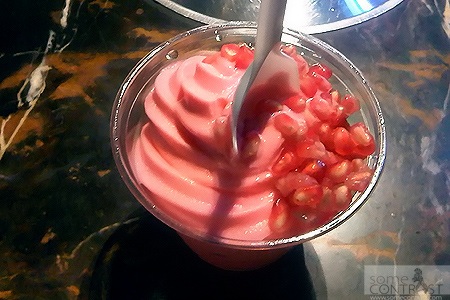 Before exiting the mall my friend and I were craving some frozen yogurt. It's weird, I tried Pinkberry only once, and I didn't find it that appealing, yet I can't help but crave it most of the time. Anyway, my friend went for Pinkberry and I went for Ansam's yogurt at Napkit.
Her choice of having watermelon flavored yogurt with pomegranates and rose water was intriguing. I thought I wouldn't like it. I ended up loving it!
The tiny cup was bursting with flavors. The yogurt was very sweet and the pomegranates were fresh. The rose water, my only worry, worked well in that mix. I thought it was a nice twist. The whole thing was so sweet and very refreshing. Don't miss it.
Good job Ansam!
This entry was posted on Saturday, June 19th, 2010 at 9:37 pm