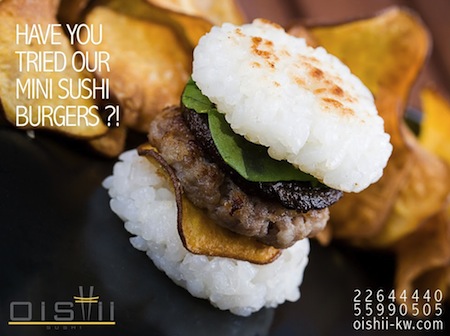 My friend owns a Sushi restaurant called OiShii Sushi, and they came up with a new addition to the Kuwaiti Sushi scene, The Sushi burger (pictured above), which wasn't available in Kuwait until they included it in the menu. They made a big deal about it and most blogs wrote about the new sushi burger.
My friend was disappointed and surprised that a new restaurant would use that same idea just months after Oishii announced their sushi burger. He knows that it wasn't an original idea, but he also knows that no one thought of having sushi burgers in Kuwait until they introduced it in there menu.

I can't help but think of this saying "imitation is the sincerest form of flattery." It means you're good enough to have imitators!
I haven't tried Oishii Sushi yet but I will soon. I've been hearing very good things about it from mutual friends.
Picture from Q8BlackMarket
This entry was posted on Tuesday, June 22nd, 2010 at 12:42 am