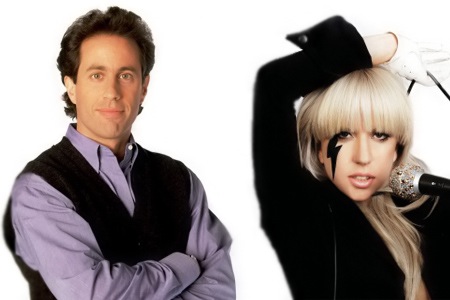 Incident: Lady Gaga was drunk at the Yankees stadium during a game, she wore bras and bikini bottom, yelled profanities and gave everybody the finger. She was mad that her front raw seat was too close to the photographers covering the game. She went away for a bit and then was upgraded to the empty luxury box owned by Seinfeld. He had this to say about Lady Gaga:
"This woman is a jerk. I hate her. I can't believe they put her in my box, which I paid for.
You give people the finger and you get upgraded? Is that the world we're living in now?
I wish her the best. You take one 'A' off of that and you've got gag.
I don't know what these young people think or how they promote their careers. I'm older, I'm 56. I look at Lady Gaga the way Keith Hernandez watches these kids when they pull the pocket out, they wear the inside-out pocket. … Do you think he understands that? He can't understand that. That's a new game, that's kids.
I'm not one of these all-publicity-is-good people. People talk about you need exposure — you could die of exposure.
She is talented, I don't know why she's doing this stuff.
Oh please, wake me when it's over."
"You've had enough of her?" Somers asked.
"Yeah," Seinfeld said.
This entry was posted on Wednesday, June 23rd, 2010 at 1:02 am